Bespoke Medal Reveal for Cardiff Met Cardiff 10K Virtual Race!
Keep reading to find out why you need to sign up to the virtual Cardiff Met Cardiff 10k
They're here, the Cardiff Met University Cardiff 10K 2021 virtual race medals! The first medals designed for our virtual Cardiff 10k race! And we're sure you are going to love them!
Runners have one week to run the 10 kilometre distance. The bespoke medals, designed by our friends at FastTrack Trophies, will be presented to each runner along with the 2021 t-shirts, yet to be revealed, on completion of their virtual 10k.
The design for your medal boasts a sleek image of the Cardiff landscape, on solid and luxury feeling heavy metal with bold blues and reds, helping it to stand out amongst your collections. It includes the word 'virtual' identifying your achievements and discipline. The recognisable 'Cardiff Caerdydd 10k' wording and font is front and centre with our title sponsors, Cardiff Metropolitan university, logo at the top.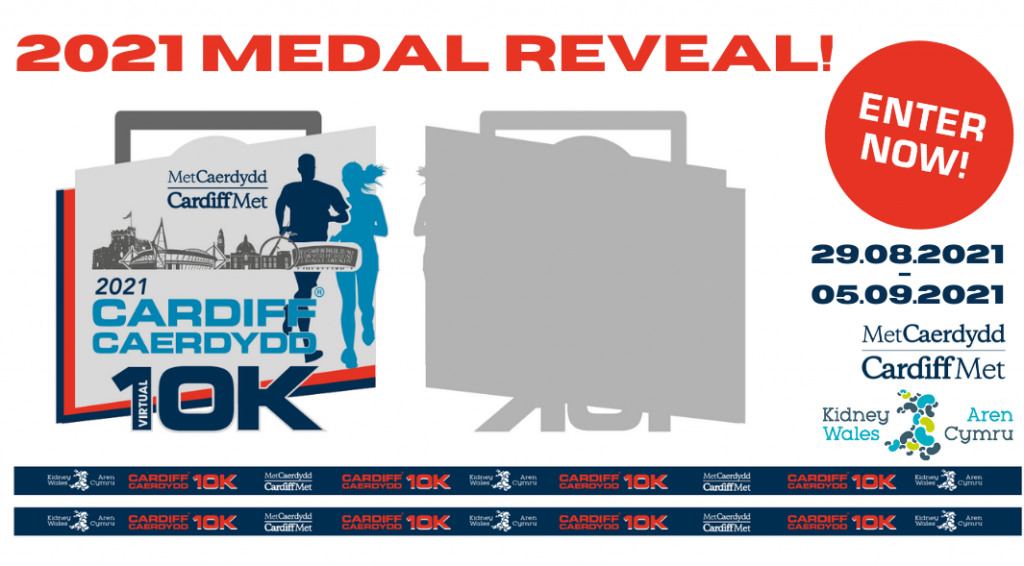 Each medal comes with its own custom ribbon, for every runner to proudly display around their neck or on their wall. It is a rich navy blue with repeats of our logos. Including race organiser Kidney Wales's logo. This year's event is essential to helping Kidney Wales fund vital research into the efficiency of the covid-19 vaccines amongst kidney patients. Still classed as Clinically Extremely Vulnerable, patients are expressing concerns and anxieties around the efficiency of the vaccines and their safety as restrictions ease. With our research we hope to provide answers and be there for our kidney community.
Event manager, Danielle Angell Jones, said: "We are very excited to reveal our Cardiff Metropolitan University Cardiff 10K Virtual medal, we can't wait to recognise our runners achievements this year with this fantastic piece of bling! It is great to know we are uniting our running community, all be it virtually, once again this year in order to raise vital funds supporting research around the efficiency of the Covid-19 vaccine for immunosuppressed patients for those living with kidney disease."
We are overwhelmed by the positive response and excitement to this year's virtual event. With your ongoing support and the incredible generosity of our sponsors we know this will be a fantastic race week. If you are taking part, have a story to share, or photo to tag us in please get in touch. We are on Facebook, twitter and Instagram and always love to hear from you!
You'll love your 2021 medal. Just like we do!
Are you ready to run and add one to your medal collection?